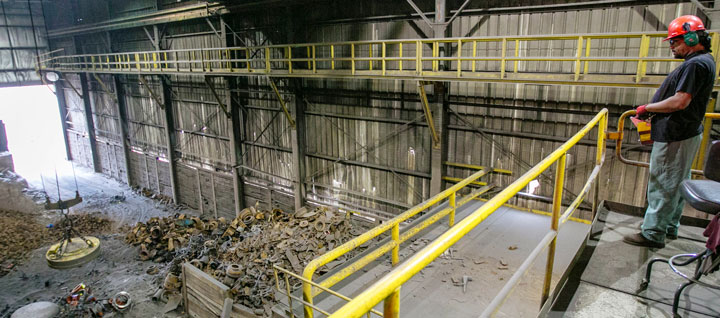 Pollution Prevention Challenge
The Art of Preventing Pollution Before it Begins
The best way to deal with pollution is to prevent it from being created in the first place. This means finding new efficiencies, doing things smarter and valuing every resource.
The fourth McWane's Pollution Prevention Challenge (P2C) contest, December 2014, generated 35 entries, with 21 submitted for judging. Teams from across the McWane family of companies participated and demonstrated ideas about their own passions, from areas as diverse as maintenance, shipping, the environment and administration.
Everyone is a winner, but some ideas stood out. At McWane, we believe doing the right thing should be its own reward — but that doesn't mean a little extra reward won't help! Each member of the winning team took home $1,000; second place earned $500 per team member; and third place earned $250 each. The winners of they "Why Didn't I Think of That?" Award receive $100 per team member.
Pollution Prevention Winners
2016
First place: McWane Ductile - Utah
Refractory Consolidation and Controls
Second place:  McWane Ductile - Ohio
Reduction of Casting Trough Coating
Third place: Kennedy Valve Company 
Core Oven Heat Curtains
"Why Didn't I Think Of That" Award:
Amerex - Reduction of Waste Caused by Spent Rugs
McWane Ductile - Utah - Cupola Spout Refractory Conservation
Clow Canada - D67M Elbow Casting Material Reduction

2015
First place: Clow Valve
Low Lead Brass
Second place: McWane Ductile - Utah
Waste Sand Cement Reuse
Third place: Manchesher Tank & Equipment - Quincy 
P2 Projects
"Why Didn't I Think Of That" Award:
Amerex - Reusable Bin Systems
Kennedy Valve - Heat Recovery 

2014
First place: Clow Canada
Pattern Modification
Second place: Amerex
Dry Paint Racks
Third place (tie):
Manchester Tank & Equipment - Elkhart
Heat Recovery
Pacific States
Finishing-Cement Line Water Reduction
"Why Didn't I Think of That?" Award:
Pacific States - Melting-Coke Breeze
Clow Canada - Passivation Improvements

2013
First place: Pacific States
Lime Reduction

Second place: AB&I
Dropout Coke Injector
Third place: Manchester Tank, Bedford
Raw Material Reduction Hot Oil Tank

"Why Didn't I Think of It?" Award Winners:
Kennedy Valve - Stormwater Improvements
Clow Valve, Oskaloosa -  TGIC Reclaim Expansion
Manchester Tank, Elkhart - Round Seam Flux Elimination
.
2012
First place: Atlantic States
Bell and Spigot Plugs

Second place: Clow Valve
Elimination of Cooling Water
Third place: Kennedy Valve
Lighting System Upgrade

"Why Didn't I Think of It?" Award Winners:
Clow Canada — VOC Reduction
Atlantic States — Pipe Bundling and Strapping
Clow Valve — Rubber Ink Stamp


2011
First place: MTE Elkhart
Product Packaging Reduction/Recycling/Reuse — Local Delivery
Second place: M&H Valve
Trash Compactor Conversion — Landfill Waste Reduction
Third place: MTE Elkhart
Dry Lubricant Product Substitution
The impressive scope of ideas, energetic presentations and passion on display by team members from different facilities was an inspiration. Together we can tackle pollution. We hope more facilities participate in future P2C contests.