Clow Canada bids a fond farewell to Mary Snell
April 20, 2017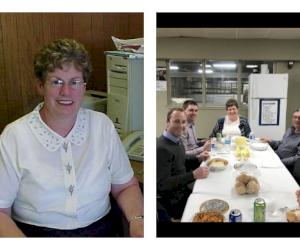 (Pictured on right: Mary, her husband Brian and her sons Duane and Devon)
On April 28, after working 47 years and 9 days, Mary Snell (mom) will work her last day with Clow Canada. Mary started with the company on April 16, 1970 as a typist then soon moved into the payroll department. For the past several years Mary's primary role was receptionist and she also handled payroll and benefits for the hourly staff.

Mary has always been a consummate professional. She has a heartwarming smile that greeted guests as they came in the front door. In her payroll and benefits role, Mary had the trust and confidence of all of the team mates at all times.

Mary was the "mom" at Clow Canada because she always looked after everything. Things just seemed to happen behind the scenes and it was Mary who made sure the office ran smoothly. She would even use her lunch hour sometimes to make sure they had supplies. She also coordinated company functions, lunches, summer picnics and Christmas parties.

Mary made Clow Canada a better place to work and the world a better place to live in. On behalf of the many hundreds of people's lives Mary touched at Clow Canada over the past 47 years, thank you for your patience, kindness, generosity and for being our mom.  You will be a hard act to follow!