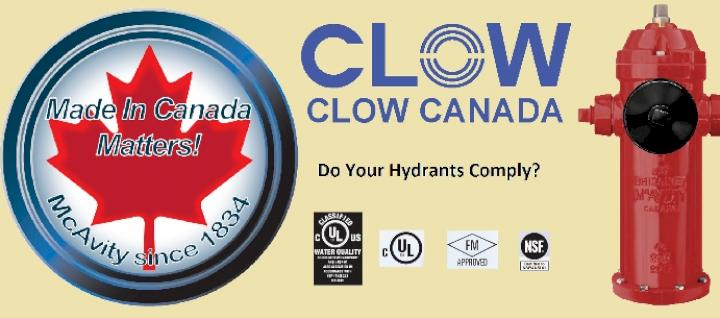 Products
Clow Canada is a Canadian subsidiary of McWane, Inc. The McWane Valve & Hydrant Group of companies (Clow Valve, Kennedy Valve & M&H valve) supply a variety of waterworks valves to Clow Canada for sale throughout Canada.
Clow Canada is the sole coast-to-coast Canadian manufacturer of fire hydrants in the country.  We manufacture hydrants under the McAvity, Concord & the Bibby trade name in our manufacturing / distribution plant in Saint John, New Brunswick.
We have our western warehouse located in Medicine Hat, Alberta, with representatives and distributors serving nationwide. We provide jobs in the Canadian market because made in Canada matters.
Clow Canada is committed to the manufacture and delivery of superior products supported by superior services.
We provide the knowledge, technology and products to efficiently and effectively serve the industry's changing needs. For more information about our products or services, please browse our new website or contact the Clow Canada sales office.