Clow Canada donates AED to local high school
July 28, 2019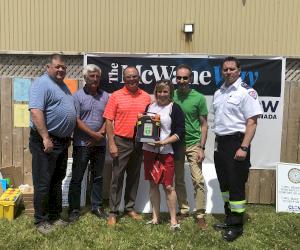 Pictured L-R: Dan Ouellette (EHS Manager), Ken Matthews (Plant Manager), Rick Benoit (General Manager), Eileen, Steve and Andrew
Several years ago, Clow Canada partnered with a group called Public Access Defibrillation (PAD) through Medavie Health Services NB and since have donated six AEDs to the local community.  The AEDs were donated to the Saint John Airport Inc., YMCA of Greater Saint John, Saint John Salvation Army, a local campground and two to the Loch Lomond Villa. For those that may not know, an automated external defibrillator (AED) is used to help those experiencing sudden cardiac arrest. It is an easy-to-use device that can analyze the heart's rhythm and if necessary, deliver an electrical shock to help the heart re-establish an effective rhythm.
In January 2019, the AED that was donated to the local YMCA, was successful in saving a man's life.  It is very unfortunate the gentlemen required the use of an AED, but Clow Canada is very pleased they had a small part in helping to save this gentlemen's life. The gentleman the AED saved was Steve. This year Clow donated an AED to Compass Education School. Steve and his wife Eileen, who happens to be a teacher at Compass, attended Clow's Safety and Community Day to accept the donated AED along with Andrew, a representative from the PAD program.

We were happy to meet Steve and his wife and appreciate them taking time to attend our Safety and Community Day.